Say Hello to the PowerBloc. The YouSolar PowerBloc® is a solar nanogrid that delivers reliable and clean power with little or no dependence on utility power. The PowerBloc uses a unique modular power architecture. The PowerBloc can meet the needs of a home or scale to power a business.
A Solution with No Limits.
For customers concerned about grid outages, who want to protect against rate hikes, or who choose to be off-grid, the PowerBloc is a dream come true. Powerful, independent, and flexible. Discover the near endless possibilities of the PowerBloc.
Own Your power.
As an independent power system, even when connected to the grid, the PowerBloc requires no utility approval. This means less red tape and a faster path to realizing your energy future.
Watch How the PowerBloc Can Power Your Life.
(2 min)
A New Day for Solar.
The PowerBloc captures the sun's energy with YouSolar's proprietary STEP™ DC-DC micro-converter. STEP maximizes solar production from each panel, giving you more clean solar energy. Our micro-converter solves even the most complex design challenges, and it is more efficient and safer than any other solar array technology. Installers love STEP because it is simple to install.
Power a Modern Life. The PowerBloc delivers the high power necessary to run a whole home or business. It can power air conditioners and other large loads and even charge an electric vehicle. The modern world runs on electricity, and the PowerBloc has you covered.

Choose Your Power.
The PowerBloc seamlessly integrates multiple power sources such as solar, utility, or generator power. Control of all sources is seamless with no need to switch between them. PowerBloc has the industry's most sophisticated energy storage system that delivers all the energy you need.
Goodbye Worries. As a primary power supply, the PowerBloc's inverter isolates the home and business from utility outages or power glitches that can damage your sensitive appliances. Expect nothing less than perfect power.
View Your Power. Control your system with DIYA™. This beautiful and highly intuitive tablet user interface comes with your system and makes understanding and operating the PowerBloc easy and enjoyable. DIYA connects directly to your PowerBloc, so it stays connected even when there is an internet outage. For those who like to see their PowerBloc from anywhere, a web app version of DIYA is coming soon.
Gain Insight and Take Control. Much more than a dashboard, DIYA gives you complete control of your system. YouSolar delivers a satellite-based hourly solar production forecast using our in-house SPOT™ forecasting service. We use satellite terrain radar to let the PowerBloc know when the first and last rays of light hit the solar array.
Experience and Expect More. When in standby mode, DIYA™ is a practical timepiece and weather station, and you'll find system performance information cleverly integrated into the clock's dial. Our goals is to turn DIYA into a home automation hub with control over EV charging, your appliances, fire alarms, and home security.
Technology is best when it disappears and a product is pure joy. We believe we have done just that with the DIYA user interface. We invite you to be dazzled by the elegance of DIYA. So, say hello to a user interface that loves you back.
Say Hello to a User Interface the Loves You Back. (1 min)
Fiercely Self-Reliant.
Many of our customers live in communities threatened by wildfires and extreme weather, or in places that no power line reaches. They do not see utilities capable of powering their future and do not feel like paying for policy failures with their electricity rates.
Forward-Looking.
Our customers are looking ahead and see that a fundamental shift is on the way. They want to be ready now. They see their homes as their workplace, refuge, and fortress. Reliable, independent power is the key.
Definitely Modern.
Our customers do not believe in the status quo. Their ideas about living are modern. They want an independent power system like the PowerBloc. Out with the old utility paradigm, in with the new independent power idea.
The Power Architecture of the Future.
The PowerBloc represents a paradigm shift. YouSolar invented the solar nanogrid, a modular and scalable system where all power blends seamlessly as direct currents in the high potential core. That is how it should be. Only in the last step does electric power convert to alternating currents.
Tomorrow Starts Today.
In the PowerBloc, all modules, or blocs, connect independently and in parallel to the core, which allows the possibility of creating a plug-and-play system using stackable modules. But tomorrow starts today with the high-performance PowerBloc with awesome power and deep storage—perfect for the modern home.
Discover the nearly unlimited possibilities of the PowerBloc
.
The PowerBloc is a super-efficient nanogrid system that can provide independent power to a home or scale to power a business or apartment building. Today's PowerBloc comes as a rack-mounted system in a compact cabinet.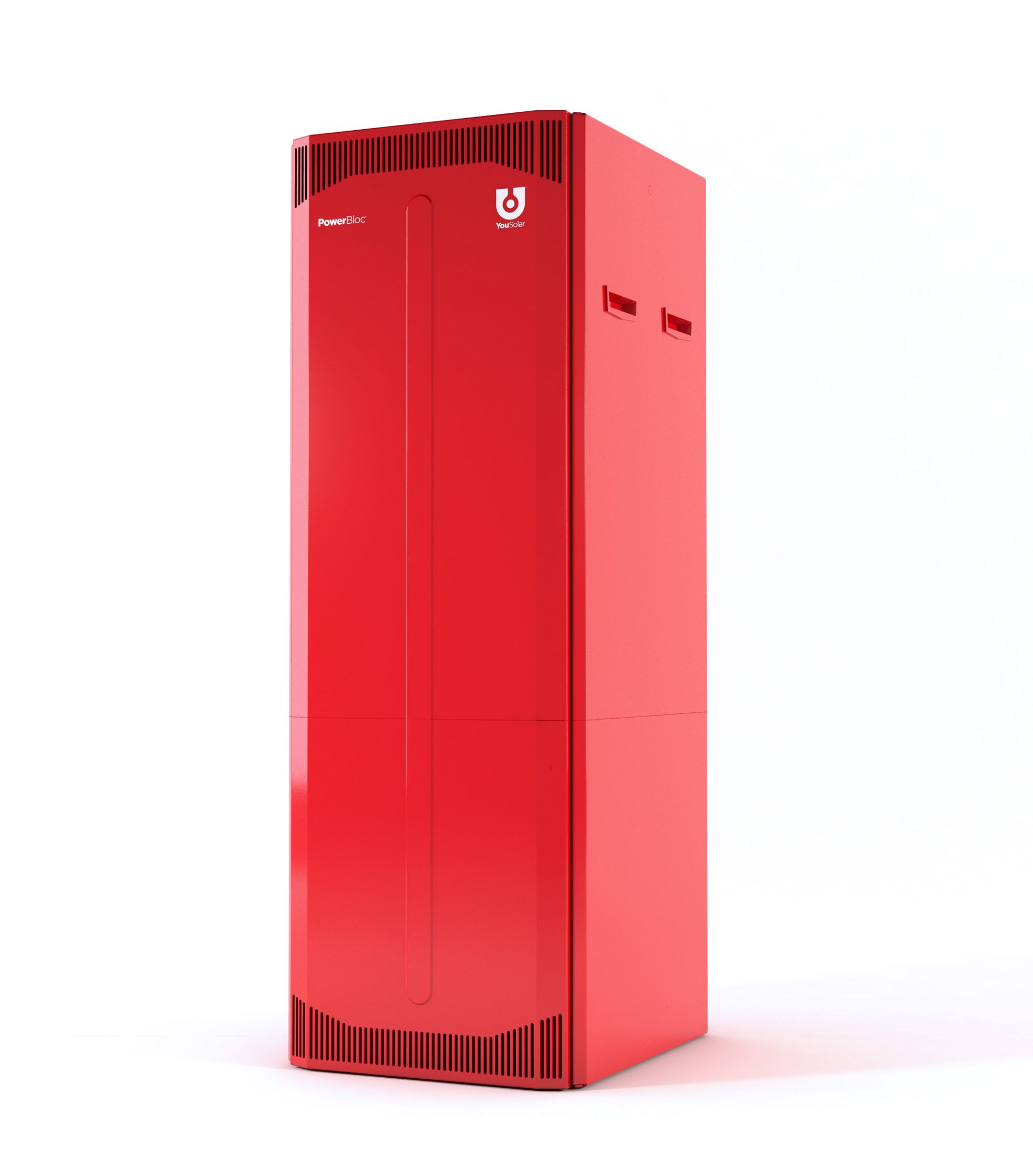 Tomorrow
Stackable
PowerBloc
Accelerating the Future.
The PowerBloc using stackable plug-and-play modules is scheduled for world premiere in 2024. It is easy to transport and even easier to assemble. The stackable PowerBloc has the "velocity" to make quick and positive impact on people's lives and the world's climate.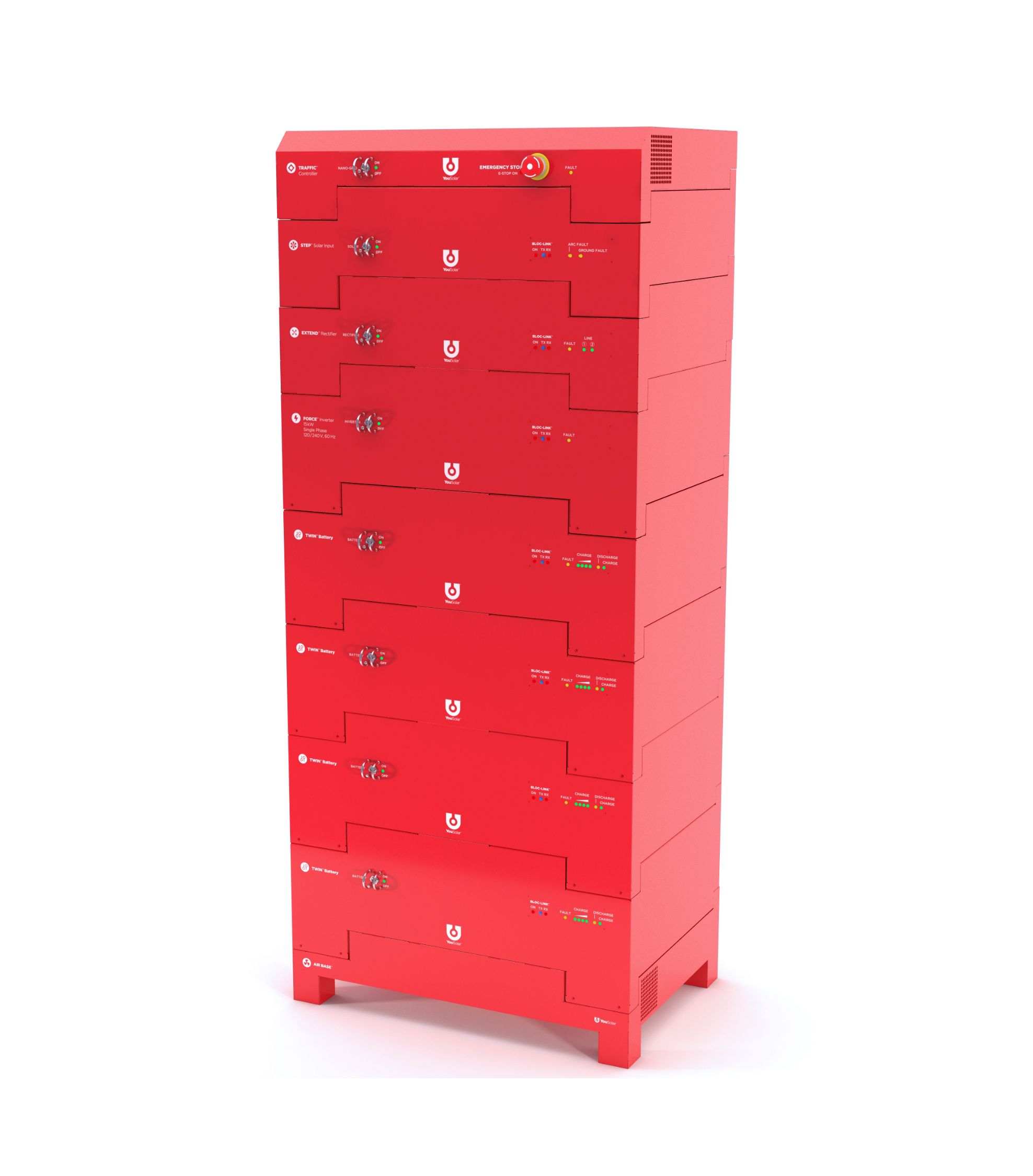 Soak up the sun


by getting a quote today.