Team Member Profile | Gene Krzywinski, Technical Advisor, Diver, and Excellent Cook
YouSolar was founded on the vision to build the world's most advance solar nano-grids.
A company called eIQ Energy seemed to have key technology to help realize this vision. It had developed a revolutionary DC-DC micro-converter that steps each panel's electric potential (voltage) to 380 V DC, an emerging electrical standard now used in server farms and electric vehicles. Gene Krzywinski was its inventor. So, when Arnold Leitner, Founder and CEO of YouSolar, executed the vision, he contacted Gene. When Arnold and Gene met for the first time at eIQ's offices in South San Jose, it was a meeting of the minds.
With Arnold's first sentence, Gene understood and bought into the vision of a plug-and-play solar battery system that has high power and works anywhere.
A system that not only overcomes the limitations of current technology but also creates entirely new possibilities. A system that later got the name PowerBloc.
This meeting was the start of a friendship and collaboration. 
YouSolar and eIQ have worked closely together over the subsequent years. Gene's team delivered power electronics, while YouSolar focused on controls, firmware, software, system design, and everything else. Today, both companies have their office next to each other in Santa Clara, California. Gene and his team also bring tremendous experience constructing microgrids and other DC power systems.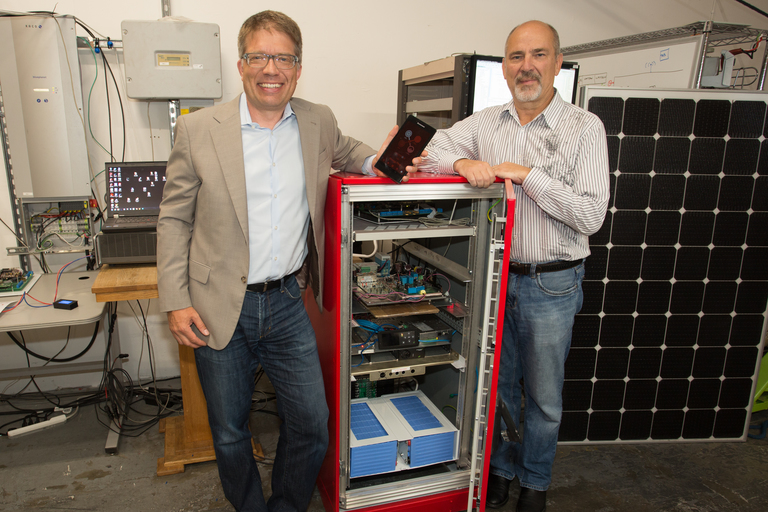 It Started with a Vision. Arnold Leitner, Founder and CEO, with his friend and business partner Gene Krzywinski, CEO of eIQ Energy, with the very first prototype of the PowerBloc®.
Gene is an expert diver and loves spending time on Kauai. If you go to the local dive shop in Poipu, the dive master knows Gene. Gene has dived in many places, but his favorite places are Kauai, Niihau, and the kelp forest near Monterey, California.
Diving is a way for Gene to connect with the wonders of the natural world.
When not diving, Gene is an excellent cook who loves Ghost Pepper.
Before founding eIQ, Gene was VP of Sales and Marketing for Impala Linear Corp, where he turned the company around and led its sale to Fairchild Semiconductor. Gene has a BSEE in semiconductors from Rutgers College of Engineering.