Big Dreams in Big Sur | The Original PowerBloc® and New Customers
Skills and knowledge are essential, but you also need imagination to create a new product.
You have to dream—and dream big.
We were dreaming big when we built the first PowerBloc in Big Sur in the summer of 2019. When we launched our first crowdfunding campaign in 2020, you believed in our dream. Our campaign reached $ 1 million and was oversubscribed.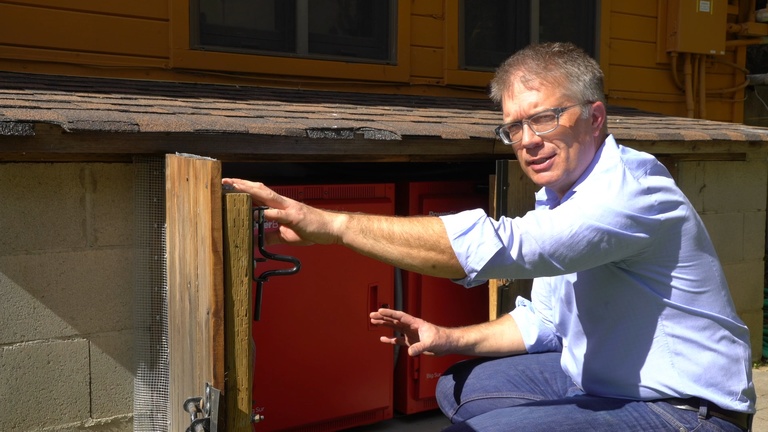 Arnold Leitner, Founder and CEO, at the original PowerBloc in Big Sur in 2020.
Two years later, sophisticated second generation PowerBloc systems are powering customers in Northern California.
The PowerBloc is a technology marvel and the world's most advanced solar nano-grid. It is a hit with our customers.
We are now selling the next generation PowerBloc which will power even the largest homes and businesses.
A new off-grid home, also in Big Sur, will have over 150 kWh of energy storage, 30 kW of solar, and 50 kW of AC power.
It will be able to charge an electric vehicle and power all-electric appliances.
Watch the video from our 2020 campaign for a trip back in time and to beautiful Big Sur.
We have taken a quantum leap with the controls and operating system since building the original PowerBloc. It means that system in Big Sur is ready for an upgrade. So, two weeks ago, Baxter Smith, Product Specialist, and Arnold Leitner, CEO, went to Big Sur and got the system ready for the upgrade.
Over the summer, we are also using the site to test a new, highly compact PowerBloc design. That compact design will find its way into special applications of the PowerBloc for RVs, tiny homes, and boats.
For three years, the original Big Sur PowerBloc delivered reliable power to the home. Its solar array had grown over the years, making the supplemental generator obsolete. It was a fantastic and nostalgic day to rebuild the system.