Big Dollars Are Flowing Into Independent Power Systems | Let the Race Begin
Last week, Silicon Valley start-up Lunar emerged from stealth mode, announcing that it has collected USD 300 million in financing over the past two years.
The company is reportedly working on an "end-to-end home battery system which will be a combination of battery modules, power electronics and software, all designed from the ground up, rather than the cobbled-together systems common today," according to founder Kunal Girotra.
"The existing mix-and-match ecosystem can confuse homeowners and installers. There are a lot of boxes on the wall, they're not integrated, and they come from different manufacturers."
We could not agree more with this assessment and vision.
We applaud Lunar for raising both awareness and significant capital for accelerating the transition of the residential market to green renewable energy. This transition will be such a monumental effort that there is room for many players to bring it about.
The excellent news for YouSolar investors and customers is that we have been working on this problem for years and have already achieved all of the above and more with a fraction of the investment. 
YouSolar's PowerBloc is exactly the elegant, integrated system that Mr. Girotra describes. It is already operating in six homes in Northern California and two off-grid homes in Big Sur and the Sierra Nevada.
We designed the PowerBloc from the first principles to be the ultimate nano-grid. It operates on high-voltage Direct Current, which is used in electric vehicles, and emerging as the standard for future all-electric homes.
We even access NASA satellites to deliver our own real-time solar production forecast.
YouSolar covers everything from photon to electron.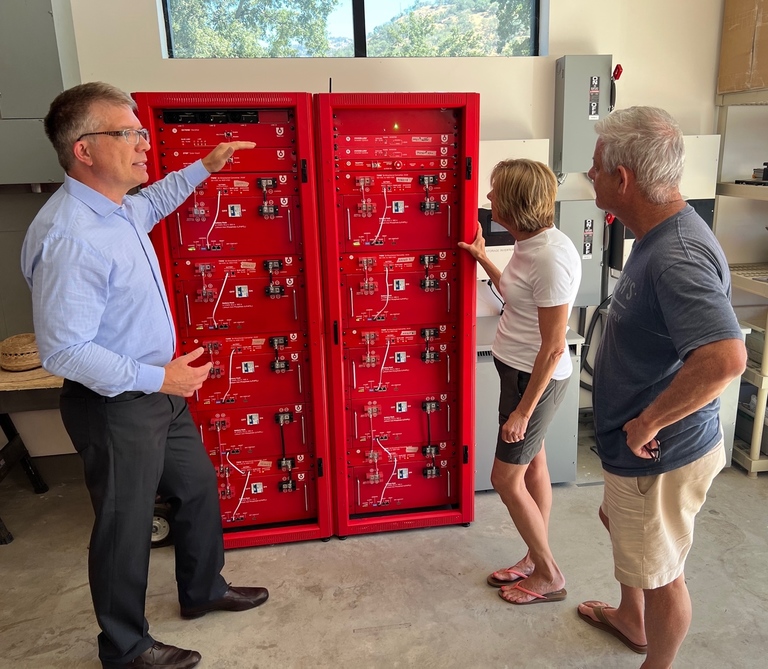 Arnold Leitner, Founder and CEO, explains a new PowerBloc to its owners.
And we are going big now.
We are in the final proposal stages of multiple high-end homes that are entirely off-grid or use little utility power. Two of the off-grid homes have chargers for multiple electric vehicles. These PowerBloc systems will each deliver 40,000 kWh per year and up to 50 kW of power.
YouSolar is not just in the pole position in this nascent industry; we are already a few laps around the course.
We have tried-and-true machines out in the field, delivering clean power 24/7.
The race is on, and we expect to win!